£40.00 GBP
£0.00 GBP
EGGZ PRO DJ
Free Shipping On All UK Orders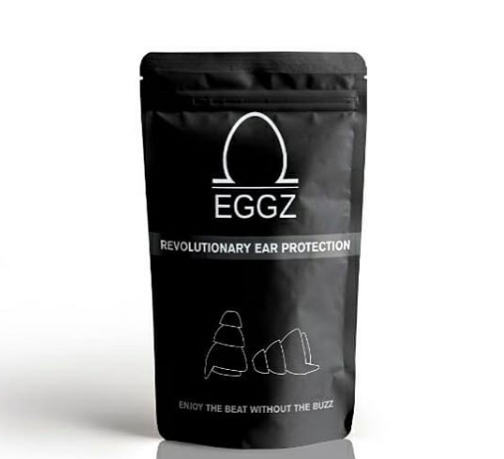 EGGZ Ear Plugs deliver a tuned, flat attenuation response so all frequencies are reduced by almost the same level, great for music as they lose nothing of the original sound, even harmonics, making EGGZ PRO DJ the best high fidelity universal hearing protection on the market. The DJ Ear Plugs contain the same acoustic filters that are used by many professional DJ's in custom earmoulds.

EGGZ PRO DJ ear plugs have been designed specifically for DJ's playing live sets or production work. Using patented filter technology we ensure clarity of sound with full music dynamic yet allowing speech to be heard. The low profile ear plugs can also be worn under earphones so they can remain in the ears for the whole night.
Additional Information
Protection
Noise reduction of 20db allowing you to enjoy The Beat without The - Buzz, 20db brings the volume down slightly allowing you to enjoy your surroundings without having to worry about damaging your ears


Size
- Discreet Liquid Silicon Rubber Eggz earplug fits most adult ears, removal is easy with the small tug provided on the earplug
Environment
- Perfect for professional, amateur DJ's
• DJ's
• Mixing and production
• Club nights
• Dance festivals
• Amplified music


30 Day Money Back Guarantee - If you don't enjoy simply return and your money back
What's The Difference Between EGGZ Discreet & EGGZ PRO?
EGGZ Pro range is made for anyone wanting to take there hearing protection game to the next level. Usually, when anyone looks to invest more in earplugs the only option they have is custom molded earplugs that can be in excess of £150
EGGZ Pro are considerably cheaper than the price of custom molded earplugs and provide as good if not better in sound clarity. Using patented technology this is a game changer in the hearing protection world and contains the same type of acoustic filters that are used by many professional musicians custom ear moulded earplugs.
What People Are Saying About Us
Having been a professional musician for forty years, my ears have taken a beating one way or another. I have used ear plugs on and off for the last ten years, but EGGZ are without doubt the most comfortable. They work really well at cutting the peaks while leaving the the main audio information intact, and allow you to hear whats going on around you on stage.

I can heartily recommend them.
Steve

Finally found earplugs that fit! Extremely good for DJ gigs! These earplugs stop the ringing after a long night At a gig and would totally recommend them!
Tyler
I play in a band. I've used these for 3 practices. My ears would feel terrible after practice like my head was swollen. This doesn't happen at all now. I don't have the same ringing afterwards either. Very effective indeed. I can also hear myself singing better which is good
Paul

I've owned a number of fairly cheap earplugs and these are the first ones that I've really gotten along with. Most earplugs that I've owned cut out a lot of the high end and you're left hearing a lot of very muffled low end but I've worn these 2 weeks running whilst playing in my covers band and worn them to watch a gig and they've let me hear everything really well ... as well as that they're much more comfortable than other plugs I've owned so you kind of forget they're there after a while. Would definitely recommend
Jamie